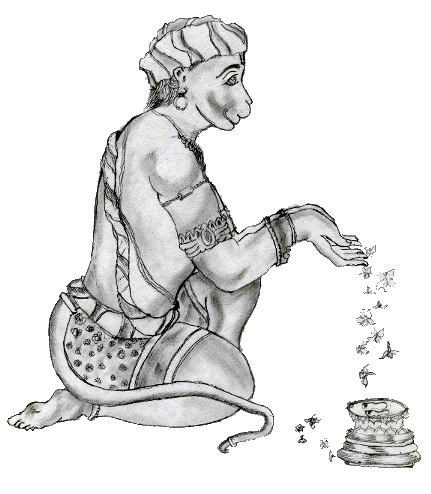 Lord Hanuman is the most worshipped god in Bharat. In almost all villages one can find one or two temples for the Lord. Today in every locality of the town or City, there is a temple for the Lord. The Lord is more popular as Sri Hanuman throughout Bharat, but He is more known to the local in different name in different parts of Bharat. In Tamil Nadu and a part of Karnataka He is Sri Anjaneya. In other parts of Karnataka He is known as Sri Mukya Prana. In Andhra He is Sri Anjaneyelu or Sri Hanumantha. In Maharastra He is worshipped as Sri Maruti. In Odhya and parts of Bihar He is Sri Mahaveera. In Punjab and part of Himachal He is Sri Bajrangbali. The Lord is worshipped throughout Bharat as Sri Hanuman. The method of worship, the language in which the prayers are offered and the offering of prasad may differ but the devotees' faith in Him in solving their problem is unflinching. They pray to Him with unified mind and meditate on Him since He has the cure for all their sankatam. Hence He is called 'Sankata Mochan Hanuman'.
Vayusutha Publications is dedicated to spread the glory of the LORD, hence we intent to publish books in praise of the Lord Sri Hanuman alone. There are different ways to attain sanctity and one of them is to sing in praise of the LORD. The slokas in praise of the LORD must be recited with correct pronunciation because even a small mistake in the spelling or pronunciation will lead to a different meaning. At present different versions of the same slokas are available. We at Vayusutha Publications have tried our best to give the correct version of the slokas after due deliberation and consultation with well known scholars. Where it is required be have brought out the 'pata bedham' also. To start with we have published books in Sanskrit-Tamil versions with meanings. We plan to include other languages also.
Vayusutha Publications had priced their books in such a way so as to reach the maximum number of Sri Hanumath devotees. As a devotee of Lord Hanuman you can help us in our endeavor to reach as many Sri Hanumath devotees as possible by Gifting our books during occasion of celebration in your family.